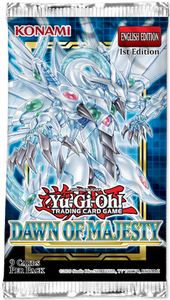 Yu-Gi-Oh!: Dawn of Majesty Blister
We only sell original manufacturer sealed products. The items may have small or minor packaging defects including tears, dings or other imperfection to the packaging. No discounts will be given for imperfect products.

Stardust Dragon takes flight once more in Dawn of Majesty! This Summer's 100-card core booster set transforms Yusei's signature Synchro Monster, hosts a gathering of Gizmeks, introduces a new Insect World Premiere theme, and more!
Let's rev it up again! Yusei's Stardust Dragon from Yu-Gi-Oh! 5D's takes flight with a brand-new slate of cards! Speed up your Stardust Dragon strategy with new Tuner monsters that can Special Summon themselves, making it easy to Synchro Summon Stardust Dragon and then upgrade it into a brand-new "Majestic" form. Draw up the blueprints for your victory with Spell and Trap Cards that benefit you further for Summoning Stardust Dragon and its more advanced forms, as well as activating their effects.
After sitting out for two sets, the Gizmeks are back in force and becoming a full-fledged theme with 4 new "Gizmek" monsters as well as their own Field Spell! These magnificent machines excel on utilizing other machines with identical ATK and DEF, so the synergy not only works with the original Gizmeks, but also with monsters from the past! Now it's up to you to find out the hidden potential of machines yet to be in the spotlight! Duelists who missed out on the original Gizmeks can find two of them in Egyptian God Deck: Obelisk the Tormentor and another in Structure Deck: Cyber Strike.
What's scarier: a swarm of small angry insects or one very big, very angry insect? Whichever you choose, you'll be glad it's on your side when you play with the brand-new World Premiere theme introduced in Dawn of Majesty! Gather a swarm of Insects that can link together to create a 3000 ATK Insect that can Tribute other Insects to deploy a stronger one or to prepare an attack with its power to climb all the way to 5000 ATK!
Dawn of Majesty also introduces:
A new theme that can Fusion Summon

 

or

 

Ritual Summon…using the same Spell Card!
A new Xyz Summoning theme driven by the taste and texture of sushi!
A new theme that continues the story of

 

Fallen of Albaz

 

and

 

Dogmatika Ecclesia

 

that began in

 

Rise of the Duelist!
New cards for themes introduced in

 

Genesis Impact,

 

Blazing Vortex,

 

Ancient Guardians, and

 

Lightning Overdrive!
A Ritual Spell that lets you Ritual Summon monsters from your Deck instead of your hand!
And more!
The Dawn of Majesty booster set contains 100 new cards:
50 Commons
26 Super Rares
14 Ultra Rares
10 Secret Rares