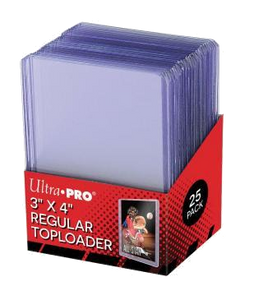 Ultra Pro: 3" X 4" Clear Regular Toploader 25ct
We only sell original manufacturer sealed products. The items may have small or minor packaging defects including tears, dings or other imperfection to the packaging. No discounts will be given for imperfect products.

LIMIT 4 per household - any additional ones will be cancelled
Protect your valuable collectible trading cards with the original Ultra PRO toploaders! These rigid plastic protectors are made with super clear PVC to keep your cards safe for storage, display, during trade and in shipments. With outer dimensions of 3" x 4", these toploaders are designed to safely store standard size cards (2-1/2" x 3-1/2") up to 35 points in thickness. Each pack comes with 25 individual toploaders. 

Protect your valuable collectible trading cards with the original Ultra PRO toploaders
Sized to hold 2-1/2" x 3-1/2" (63.5mm x 88.9mm) standard size cards up to 35 points in thickness
Made with super clear, rigid PVC plastic
Durable construction keeps cards safe for storage, display and in transit