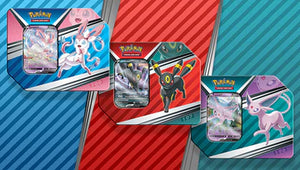 Pokemon V Heroes Tin (1 random tin)
We only sell original manufacturer sealed products. The items may have small or minor packaging defects including tears, dings or other imperfection to the packaging. No discounts will be given for imperfect products.

Evolve your gameplay with the Pokémon TCG: V Heroes Tin, featuring several powerful Evolutions of Eevee as Pokémon V! Will you choose Espeon V's relaxing radiance, Umbreon V's staggering stare, or Sylveon V's graceful gifts? Each tantalizing tin includes a battle-ready Pokémon V, as well as a trove of treasures in Pokémon TCG booster packs.
The Pokémon TCG: V Heroes Tin includes:
1 foil card featuring either Espeon V, Umbreon V, or Sylveon V

5 Pokémon TCG booster packs