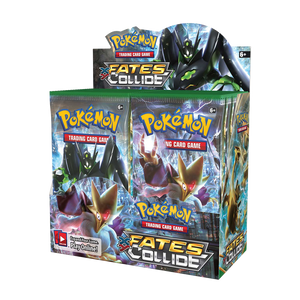 Pokémon TCG: XY-Fates Collide Booster Display Box
We only sell original manufacturer sealed products. The items may have small or minor packaging defects including tears, dings or other imperfection to the packaging. No discounts will be given for imperfect products.

One Pokémon sees the future—and shapes it to unify two worlds! Order is restored, fates are sealed, and two Pokémon worlds join together in the Pokémon TCG:
XY—Fates Collide
expansion! This booster display contains 36 ten-card Pokémon TCG:
XY—Fates Collide
booster packs.
A full display of 36 booster packs!
XY—Fates Collide

 

expansion reveals new dual-type Pokémon!
10 additional cards per booster pack