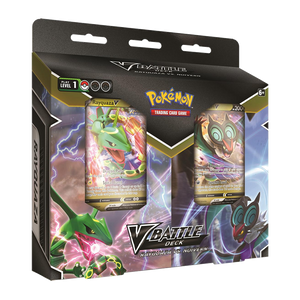 Pokémon TCG: V Battle Deck—Rayquaza vs. Noivern Bundle
We only sell original manufacturer sealed products. The items may have small or minor packaging defects including tears, dings or other imperfection to the packaging. No discounts will be given for imperfect products.

Get ready for an epic clash when one of the largest and most powerful Legendary Pokémon goes head to head with a hot-blooded rival known for its relentless pursuit of its prey. The ready-to-play deck bundle pits Rayquaza V against Noivern V, including everything players need to set the stage for an epic showdown. Choose either the Sky High Pokémon or the Sound Wave Pokémon to lead your team in a fierce battle against an opponent. Then, switch up the decks and see what things look like from the other side—can you win with both powerful Pokémon V?
The Pokémon TCG: V Battle Deck—Rayquaza vs. Noivern includes:
2 ready-to-play V Battle Decks (60 cards each)

Each deck includes a powerful special Pokémon: Rayquaza V or Noivern V!

8 additional Trainer cards, including 2 foil cards

2 large metallic coins

2 deck boxes

2 Quick Guides to unlock the strategies within

2 single-player playmats

6 reference cards

Damage counters

1 guide to upgrading your decks

A code card for the Pokémon Trading Card Game Online