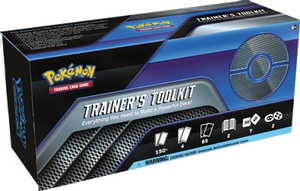 Pokémon TCG: Trainer's Toolkit 2.0
We only sell original manufacturer sealed products. The items may have small or minor packaging defects including tears, dings or other imperfection to the packaging. No discounts will be given for imperfect products.

Look inside the Pokémon TCG: Trainer's Toolkit to discover exactly what you need to transform your card collection into playable, fun, and winning Pokémon Trading Card Game decks! Inside the box, you'll find an abundance of Trainer cards and Energy cards, plus a Deck Builder's Guide to putting them all together to create a deck that showcases your best Pokémon. You'll also find everything you need to help answer the tough questions: More powerhouse Pokémon? More strategic Trainer cards? How much Energy is too much? Embrace the challenge and fun of head-to-head competition with the Pokémon TCG: Trainer's Toolkit.
The Pokémon TCG: Trainer's Toolkit includes:
More than 50 useful cards to power up your decks, including dozens of Trainer cards and 2 copies of Crobat V

More than 100 Energy cards, including Special Energy

4 Pokémon TCG booster packs to expand your collection

65 card sleeves to protect your deck

A Deck Builder's Guide

A complete Pokémon TCG rulebook

A set of 7 tournament-legal dice

2 condition markers

A code card for the Pokémon TCG Online