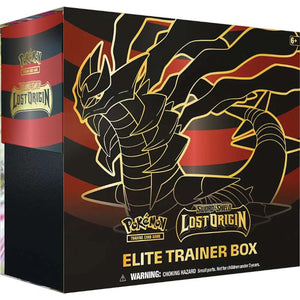 Pokémon TCG: Sword & Shield-Lost Origin Elite Trainer Box
We only sell original manufacturer sealed products. The items may have small or minor packaging defects including tears, dings or other imperfection to the packaging. No discounts will be given for imperfect products.

Surpass the Point of No Return!
As the boundary between dimensions tears apart, Giratina VSTAR plunges the world into the abyssal shadow of the Lost Zone! While Aerodactyl VSTAR harnesses this distorted power, Magnezone, Drapion, Hisuian Goodra, and Hisuian Zoroark also appear as Pokémon VSTAR to show off their own astonishing skills, joined by Kyurem VMAX. Above the shadows, Enamorus V and Radiant Gardevoir conjure up dazzling magic in the Sword & Shield—Lost Origin expansion!
Contains: 
8 Pokémon TCG: Sword & Shield—Lost Origin booster packs

65 card sleeves featuring Giratina

45 Pokémon TCG Energy cards

A player's guide to the Sword & Shield—Lost Origin expansion

6 damage-counter dice

1 competition-legal coin-flip die

2 acrylic condition markers

1 acrylic VSTAR marker

A collector's box to hold everything, with 4 dividers to keep it organized

A code card for Pokémon Trading Card Game Live