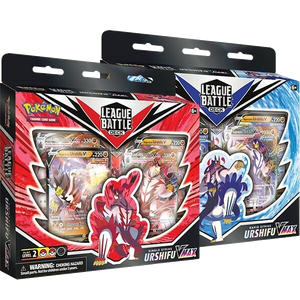 Pokémon TCG: Single Strike or Rapid Strike Urshifu VMAX League Battle Deck
We only sell original manufacturer sealed products. The items may have small or minor packaging defects including tears, dings or other imperfection to the packaging. No discounts will be given for imperfect products.

Strike Once and Finish It or Flow Like a Raging River—with Urshifu VMAX!
Choose your moment, and strike with raw power! Or strike a thousand times—each time one step closer
to victory! Single Strike Urshifu VMAX or Rapid Strike Urshifu VMAX is yours in a powerful, League-ready
deck for skilled Trainers and Pokémon TCG players. With a slew of cards including premium foil cards,
sought-after power cards, and a well-tuned set of Pokémon and Trainer cards, these League Battle Decks do
more than feature one of the most popular Pokémon of the Galar region: they put together all the elements
to support you in your next match against friends and neighbors, in person or online! Ready to play and
loaded with the potent combos of either Single Strike Urshifu VMAX or Rapid Strike Urshifu VMAX!
Each Pokémon TCG: League Battle Deck includes:
A full, playable 60-card deck loaded with power cards
2 foil cards featuring either Single Strike Urshifu V or Rapid Strike Urshifu V
2 foil cards featuring either Single Strike Urshifu VMAX or Rapid Strike Urshifu VMAX
2 coin condition markers
6 damage-counter dice and 1 competition-legal coin-flip die
1 Pokémon TCG rulebook
1 Quick Guide to unlock the strategies within
A code card for the Pokémon Trading Card Game Online