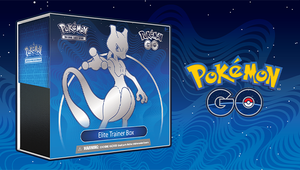 Pokémon TCG: Pokémon GO Elite Trainer Box
We only sell original manufacturer sealed products. The items may have small or minor packaging defects including tears, dings or other imperfection to the packaging. No discounts will be given for imperfect products.

Gear up for battle like never before as Pokémon GO meets the Pokémon Trading Card Game! The Pokémon TCG: Pokémon GO Elite Trainer Box is a great way to get started with this exciting new expansion thanks to the ten Pokémon TCG: Pokémon GO booster packs included. Not only that, but you'll get a foil promo card featuring Mewtwo V. This Legendary Pokémon's Transfer Break attack will do 160 damage to your opponent's Active Pokémon while moving one Energy attached to Mewtwo V onto one of your Benched Pokémon.
This Elite Trainer Box also includes plenty of other useful items for playing the Pokémon TCG. There are 65 card sleeves featuring Mewtwo to keep your deck in good condition, 45 Energy cards to power up your team, damage-counter dice and a coin-flip die, acrylic condition and VSTAR markers, and a player's guide to the Pokémon GO expansion. It all comes in a sturdy collector's box that's perfect for storing your cards. You'll be ready to go with this cool set!
The Pokémon TCG: Pokémon GO Elite Trainer Box includes:
10 Pokémon TCG: Pokémon GO booster packs

1 foil promo card featuring Mewtwo V

65 card sleeves featuring Mewtwo

45 Pokémon TCG Energy cards

A player's guide to the Pokémon GO expansion

6 damage-counter dice

1 competition-legal coin-flip die

2 acrylic condition markers

1 acrylic VSTAR marker

A collector's box to hold everything, with 4 dividers to keep it organized

A code card usable in either the Pokémon TCG Online or Pokémon TCG Live