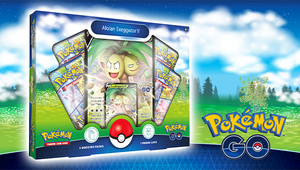 Pokémon TCG: Pokémon GO Collection—Alolan Exeggutor V - Release 7/1/2022
We only sell original manufacturer sealed products. The items may have small or minor packaging defects including tears, dings or other imperfection to the packaging. No discounts will be given for imperfect products.

Release 7/1/2022
Growing taller and stronger in the tropical sunshine, Alolan Exeggutor V surveys its surroundings and then swings in to strike! Thanks to its Growing Tall attack, this powerful Grass-type Pokémon V makes it easy to get Energy into play so that you can land a big hit with its Head Swing attack. Here you'll find a ready-to-play copy of Alolan Exeggutor V, an oversize version to show off in your collection, and a handful of booster packs from the special Pokémon GO expansion.
The Pokémon TCG: Pokémon GO Collection—Alolan Exeggutor V includes:
A foil promo card featuring Alolan Exeggutor V

An oversize foil card featuring Alolan Exeggutor V

4 Pokémon TCG: Pokémon GO booster packs

A code card usable in either the Pokémon TCG Online or Pokémon TCG Live