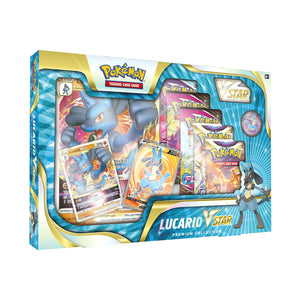 Pokémon TCG: Lucario VSTAR Premium Collection
We only sell original manufacturer sealed products. The items may have small or minor packaging defects including tears, dings or other imperfection to the packaging. No discounts will be given for imperfect products.

Become an Aura Star—with Lucario VSTAR!
Channeling all of its determination and might, Lucario VSTAR unleashes an Aura Star for the ages! In this collection, you get playable foil cards featuring Lucario V and Lucario VSTAR, plus an oversize version of Lucario VSTAR for display. You'll also find a Lucario pin featuring a unique design, a glimmering Lucario coin, and Pokémon TCG booster packs with even more cool and powerful Pokémon.
The Pokémon TCG: Lucario VSTAR Premium Collection includes:
1 etched promo card featuring Lucario V
1 etched promo card featuring Lucario VSTAR
1 etched oversize card featuring Lucario VSTAR
1 colorful collector's pin featuring Lucario
1 metallic coin featuring Lucario
1 acrylic VSTAR marker
6 Pokémon TCG booster packs

Each booster pack contains 10 cards and either 1 basic Energy or 1 VSTAR marker

A code card for Pokémon Trading Card Game Live