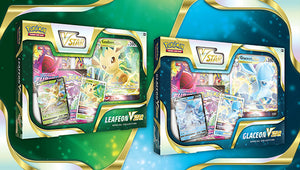 Pokémon TCG: Leafeon VSTAR and Glaceon VSTAR Special Collections (Set)
We only sell original manufacturer sealed products. The items may have small or minor packaging defects including tears, dings or other imperfection to the packaging. No discounts will be given for imperfect products.

Two of Eevee's Evolutions play a starring role in the new Pokémon VSTAR Special Collections. Leafeon VSTAR and Glaceon VSTAR are ready to harness the powers of grass and ice to Knock Out the competition using their unique once-per-game VSTAR Power. Leafeon V and Glaceon V join Leafeon VSTAR and Glaceon VSTAR as foil promo cards. Each Special Collection also includes booster packs, a VSTAR marker, and more.

The Pokémon TCG: Leafeon VSTAR and Glaceon VSTAR Special Collections include:
1 promo card featuring Leafeon V or Glaceon V

1 etched promo card featuring Leafeon VSTAR or Glaceon VSTAR

1 etched oversize card featuring Leafeon VSTAR or Glaceon VSTAR

1 acrylic VSTAR marker

5 Pokémon TCG booster packs