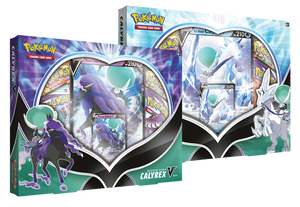 Pokémon TCG: Ice Rider Calyrex V Box and Rider Calyrex V Box (random box)
We only sell original manufacturer sealed products. The items may have small or minor packaging defects including tears, dings or other imperfection to the packaging. No discounts will be given for imperfect products.

LIMIT 2 per household - any additional ones will be cancelled
Calyrex V fuses two kinds of power, charging through ice and shadows on its trusty steed! Enhance your Pokémon Trading Card Game collection with this royal Pokémon in two different collections, each one focusing on either Ice Rider Calyrex V or Shadow Rider Calyrex V. In each box, you'll find a stunning promo card featuring the Legendary Pokémon of your choice along with a foil oversize card that makes a great display piece. You'll also get four Pokémon TCG booster packs full of helpful allies to add to your team. Whether you choose Ice Rider Calyrex V or Shadow Rider Calyrex V, you'll add a powerful Legendary Pokémon to your collection!
The Pokémon TCG: Ice Rider or Shadow Rider Calyrex V Box includes:
1 of 2 promo cards featuring Ice Rider Calyrex V or Shadow Rider Calyrex V

1 of 2 foil oversize cards featuring Ice Rider Calyrex V or Shadow Rider Calyrex V

4 Pokémon TCG booster packs

A code card for the Pokémon Trading Card Game Online