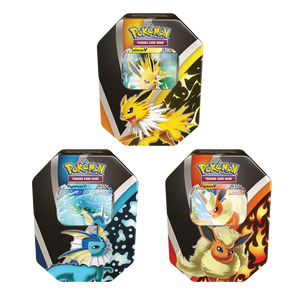 Pokémon TCG: Eevee Evolutions Tin Set
We only sell original manufacturer sealed products. The items may have small or minor packaging defects including tears, dings or other imperfection to the packaging. No discounts will be given for imperfect products.

LIMIT 1 per household - any additional ones will be cancelled
Your Pokémon Trading Card Game collection is about to level up with Eevee's original Evolutions. The new Eevee Evolutions Tins feature the Water-type Vaporeon V, whose Triple Draw attack can quickly get cards into your hand and whose Splash Jump will damage your opponent's Pokémon while allowing you to swamp in another Pokémon from your Bench. There's also the electrifying energy of the Lighting-type Jolteon V, with its Pin Missile attack that is capable of causing up to 240 damage. The third tin includes the Fire-type Flareon V, whose Scorching Column attack not only does damage, but leaves its target Burned. In addition to these incredible (and adorable) Pokémon V, each colorful tin also includes four Pokémon TCG booster packs to bolster your deck.
The Pokémon TCG: Eevee Evolutions Tin includes:
1 of 3 foil cards featuring Vaporeon V, Jolteon V, or Flareon V

4 Pokémon TCG booster packs

A code card for the PTCGO