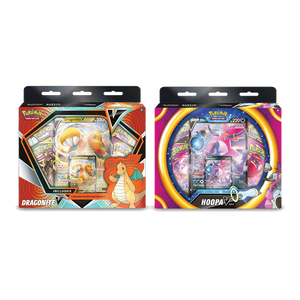 Pokemon TCG: Dragonite V or Hoopa V Box (random box)
We only sell original manufacturer sealed products. The items may have small or minor packaging defects including tears, dings or other imperfection to the packaging. No discounts will be given for imperfect products.

Product Description
Lead the Dragon Types to Victory or Unleash a Fusion Strike! Boasting tremendous might, Dragonite V and Hoopa V are ready for battle! Trainers rarely see these formidable Pokémon—and few are lucky enough to catch them! You'll get Dragonite V or Hoopa V in both playable and display sizes, as well as extra goodies from Pokémon TCG booster packs.
Contains one product chosen at random
Now you can make a powerful impression by adding their strength to your deck with the Dragonite V Box or Hoopa V Box!
The Pokémon TCG: Dragonite V or Hoopa V Box includes: 1 foil promo card featuring either Dragonite V or Hoopa V, 1 foil oversize card featuring either Dragonite V or Hoopa V, 4 Pokémon TCG booster packs, A code card for the Pokémon Trading Card Game Online