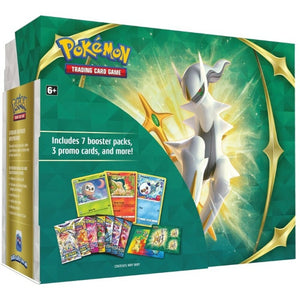 Pokémon TCG: Collector Bundle 2022
We only sell original manufacturer sealed products. The items may have small or minor packaging defects including tears, dings or other imperfection to the packaging. No discounts will be given for imperfect products.

Three charming first partner Pokémon come together in a goodie-filled Collector Bundle! The stars of this offering are three foil promo cards featuring Rowlet, Cyndaquil, and Oshawott. These three Pokémon will definitely increase your Pokémon TCG collection's cute factor! Additionally, you'll find plenty more Pokémon in the seven Pokémon TCG booster packs that are included in this set.
Not only that, but this collection also includes a Pokémon coin, a Pokémon notebook, and four sticker sheets for added Pokémon fun.
The Pokémon TCG: Collector Bundle includes:
7 Pokémon TCG booster packs

3 foil promo cards featuring Rowlet, Cyndaquil, and Oshawott

A cool Pokémon coin

4 colorful sticker sheets

A Pokémon notebook

A code card usable in either the Pokémon TCG Online or Pokémon TCG Live