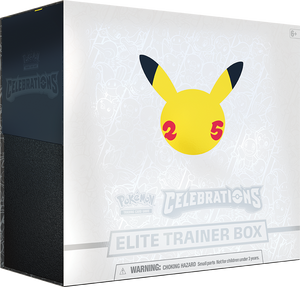 Pokémon TCG: Celebrations Elite Trainer Box
We only sell original manufacturer sealed products. The items may have small or minor packaging defects including tears, dings or other imperfection to the packaging. No discounts will be given for imperfect products.

Celebrate 25 years of Pokémon battles, adventures, and memories with a festive parade of Pokémon including Mew, Ho-Oh, Lunala, and Zamazenta. With 10 Celebrations-themed booster packs and five additional TCG booster packs, there are plenty of opportunities to indulge your nostalgia while building a deck that celebrates everything the Pokémon TCG has to offer. And with a collector's box to keep your new cards safe, you'll be making new Pokémon TCG memories for years to come.
The Pokémon TCG: Celebrations Elite Trainer Box includes:
10 Pokémon TCG: Celebrations 4-card booster packs

5 additional Pokémon TCG booster packs

1 special foil card featuring Greninja ☆

65 card sleeves featuring the Pokémon 25 logo and lightning tail design

45 Pokémon TCG Energy cards

A player's guide to the Celebrations expansion

A Pokémon TCG rulebook

6 damage-counter dice

1 competition-legal coin-flip die

2 acrylic condition markers

A collector's box to hold everything, with 4 dividers to keep it organized

1 code card to play this deck online