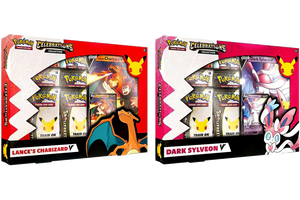 Pokémon TCG: Celebrations Collection—Lance's Charizard V or Dark Sylveon V Box (Random)
We only sell original manufacturer sealed products. The items may have small or minor packaging defects including tears, dings or other imperfection to the packaging. No discounts will be given for imperfect products.

Celebrate the great teamwork between Charizard and its Trainer Lance or explore the darker side of Sylveon with a unique look at the Intertwining Pokémon with this pair of Pokémon TCG: Celebrations Collections, which highlights classic gameplay mechanics from Pokémon TCG days past.
You can choose from either Lance's Charizard V, who brandishes a powerful Flamethrower attack, or Dark Sylveon V, who has a Disarming Voice that can Confuse your opponent's Active Pokémon and a Tricky Ribbon attack that not only damages your opponent's Pokémon—it also forces them to reveal one of the cards in their hand before returning it to their deck.
Regardless of your choice, you'll get a foil promo card of the featured Pokémon and an oversize version of the card that's perfect for display. Plus, each set includes four special 4-card booster packs from the Pokémon TCG: Celebrations expansion as well as two additional Pokémon TCG booster packs.
The Pokémon TCG: Celebrations Collection—Lance's Charizard V and Pokémon TCG: Celebrations Collection—Dark Sylveon V includes:
1 foil promo card featuring Lance's Charizard V or Dark Sylveon V

1 oversize card featuring Lance's Charizard V or Dark Sylveon V

4 Pokémon TCG: Celebrations 4-card booster packs

2 additional Pokémon TCG booster packs

1 information sheet

A code card for the Pokémon Trading Card Game Online