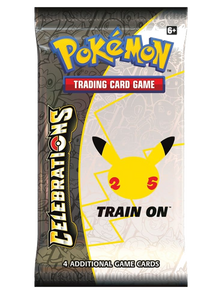 Pokémon TCG: Celebrations Booster Packs
We only sell original manufacturer sealed products. The items may have small or minor packaging defects including tears, dings or other imperfection to the packaging. No discounts will be given for imperfect products.

Celebrate 25 years of Pokémon battles, adventures, and memories with a festive parade of Pokémon including Mew, Ho-Oh, Lunala, and Zamazenta. There are plenty of opportunities to indulge your nostalgia while building a deck that celebrates everything the Pokémon TCG has to offer. 
Pokémon TCG: Celebrations 4-card booster packs