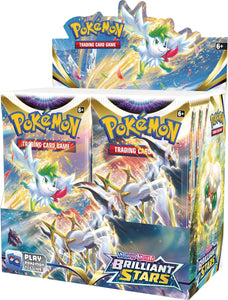 Pokémon TCG: Brilliant Stars Booster Display Box
We only sell original manufacturer sealed products. The items may have small or minor packaging defects including tears, dings or other imperfection to the packaging. No discounts will be given for imperfect products.

Constellations Align in a Show of Force! Overflowing with light, Arceus VSTAR descends from on high to share its celestial powers with other Pokémon V. Shaymin VSTAR, Charizard VSTAR, and Whimsicott VSTAR find themselves wielding awesome new VSTAR Powers, while Mimikyu VMAX, Aggron VMAX, and Kingler VMAX in its Gigantamax form boast tremendous strengths of their own. Discover glimmering constellations and start your journey toward stellar greatness in the Pokémon TCG: Sword & Shield—Brilliant Stars expansion!