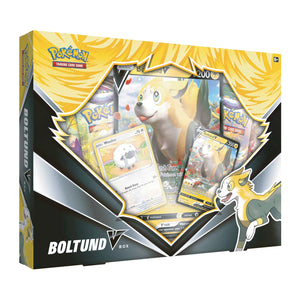 Pokémon TCG: Boltund V Box
We only sell original manufacturer sealed products. The items may have small or minor packaging defects including tears, dings or other imperfection to the packaging. No discounts will be given for imperfect products.

Charge Toward Victory—with Boltund V!
By channeling electricity into its legs, Boltund V can run nonstop for three full days! Using versatile moves, this quick Pokémon has the speed you need to unleash electrifying combos in your next Pokémon TCG match. In addition to Boltund V in both playable and display sizes, you'll find a foil promo card featuring Wooloo to keep Boltund company, plus extra treasures in Pokémon TCG booster packs.
The Pokémon TCG: Boltund V Box includes:
1 foil promo card featuring Boltund V
1 foil oversize card featuring Boltund V
1 foil promo card featuring Wooloo
4 Pokémon TCG booster packs

Each booster pack contains 10 cards and either 1 basic Energy card or 1 VSTAR marker. Cards vary by pack.

A code card for Pokémon Trading Card Game Live